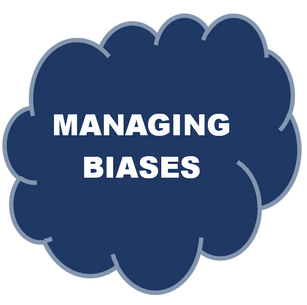 When looking at applicants, interviewers should understand that each applicant is a unique individual, with a unique background and life experience. Similarly, each interviewer is unique, bringing their own biases and cultural misunderstandings into the mix. Interviewers must first identify bias, both within themselves and their organization, before being able to manage it in the hiring process.
An interviewer's unawareness of personal biases can create barriers for a diverse applicant, even when an interviewer is attempting to be fair with an applicant. Each can view a particular encounter in an interview very differently, such as in the following two examples.
Betty, a Human Resource Generalist, had this perspective from the interviewer's chair:
"The applicant had such a hard time answering the 'strengths' question that I could not bring myself to ask her the 'weakness' question."
However, Jennie, an American Indian, gave a very different perspective from the applicant's side of the desk:
"It is hard to talk about my strengths…. but weaknesses ─ I can talk about my weaknesses. That is an easy question to answer."
Because of Jennie's cultural upbringing, she had a difficult time speaking candidly about her personal strengths. Instead of recognizing this as a possible cultural difference, the interviewer may view it as a weakness and/or unnecessarily adjust her style or questions to fit an unrealistic assumption about the applicant.
Here is another example from Lila Kelly's research. While attempting to compliment the applicant, the interviewer revealed a biased assumption about the applicant's ability to speak English. Tina, a corporate attorney and Japanese American, shared an experience she had with an interviewer who made an inaccurate assumption about her level of English:
       "One person did make a remark once that I spoke very nice English, and I said, 'Well, thank you, so do you.' Like it was a second language to me or something. I was born here, I was raised here, my parents were born and raised here, my grandparents were born and raised here. I mean, you know, so we've been around here for a while. I don't know why they would assume automatically that I was like a first or second-generation type person who maybe English wasn't my first language. Fourth generation Japanese-American is probably no different than any other American."
With an increasingly diverse workplace, human resource professionals and hiring managers need to develop cultural competencies for interviewing and hiring. They can start by asking themselves some tough questions to ensure they avoid situations like in the examples above and remain on the cutting edge of diversity and inclusion.
What are diverse applicants looking for in a job and employer?
What unconscious bias may exist in our hiring process that creates barriers for diverse applicants?
How can we make our hiring process more inclusive for applicants of diverse backgrounds?
An excellent resource to build cultural competencies for interviewing and hiring is the Integrating Diversity into Employment Interviewing online training and blended training workshop (March 16). Module One of this online training course addresses the questions above and more. It identifies biases and cultural misunderstandings that appear in job interviews, provides real life examples, and offers solutions to eliminate barriers for diverse applicants. Based on Lila Kelly's research on diversity in the hiring process, it includes videos and quotes of diverse applicants' perspectives, including race/ethnicity, disability, sexual orientation, age and size. These are real people from Lila Kelly's research and experience, not actors using a script or fabricated quotes. Learn more and read what others are saying about the Blended Training Workshop. A Certificate of Completion is issued at the end of the workshop.
Copyright © 2017 Lila Kelly Associates. Human resources and diversity consulting. Integrating Diversity into Recruiting, Interviewing, Hiring and Retention – Since 1992. Not to be reprinted without written permission from Lila Kelly. This article includes excerpts from Lila Kelly's online training courses and books at diversityintegration.com. To stay up to date on all the latest from Lila Kelly Associates, subscribe to our newsletter.