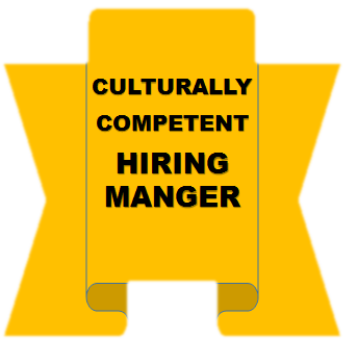 To successfully integrate diversity into an organization's hiring process, hiring managers and other interviewers must be trained to have a deeper understanding of diverse applicants.
Module Two of the online training program, Integrating Diversity into Employment Interviewing, focuses on methods to manage biases, build cultural competencies, and train interviewers to see through the eyes of diverse applicants.
This kind of training is essential to the entire interview process, starting with the first impression. Many interviewers feel that they can tell from the first impression, which is formed during the greeting phase of an interview, whether an applicant is a fit for the job. The handshake and eye contact are two very important factors in determining that first impression.
The handshake has so much importance that it is one of the foremost actions that career transition consultants discuss with clients. The common expectation is that clients have a firm handshake, and anything else is seen as timid or unconfident. But for many people of different cultures, the handshake may be an awkward interaction. Interviewers must keep this in mind when judging applicants based on their handshake.
In this training video from Lila Kelly's research, a male Latino applicant describes his experience when first encountering the hand shake in job interviews.
"When they shake your hand, whether it's a man or a female, it's very rigid. …it's very distant. I think they train you to do this, hand really straight forward and, 'Hi.' For the Latino culture, we are very personal people. It's common to kiss, for example, on the cheek, people that you know or even acquaintances. So, you compare that to this rigidity thing and, sometimes it feels a little uncomfortable. Of course, I have been here long enough now that I got used to it. But at first it was something that was very uncomfortable, and I am going, 'Well, these people don't care.'"
The training includes many other examples of cultural differences that can appear in the interview process, such as with eye contact. Eye contact is another important aspect of the first impression, but like the handshake, it can differ from culture to culture. Different cultures have varying ideas of what levels of eye contact are respectful and appropriate.
Another area to build cultural competencies is in making diverse applicant feel comfortable. The applicant's comfort level can greatly affect the outcome of an interview. The same goes for the interviewer's comfort level. If the interviewer is not comfortable with diverse applicants, it can derail the entire interview. This is why it is important to train interviewers to be comfortable with a diverse array of ethnicities, sexual orientations, disabilities and other backgrounds.
The importance of making the applicant feel comfortable cannot be overstated. If applicants feel comfortable they are more likely to:
share more information about themselves,
want to work for your organization over your competitors, and
share positive things about your organization in their communities.
Integrating Diversity into Employment Interviewing Module Two helps interviewers gain a deeper understanding of applicants from diverse backgrounds, including race/ethnicity, disability, LGBT, age and size. It covers skills and cultural competencies for interviewing, integrating diversity into the interviewer's style and the structure of the interview process, and developing structured and inclusive interview questions. It reviews commonly asked interview questions, discusses interviewers' unmet expectations due to cultural misunderstandings, and explores alternative methods for asking inclusive interview questions. All fundamental to becoming a culturally competent hiring manager and interviewer.
Maintaining a welcoming and culturally competent interview environment is crucial to providing Equal Employment Opportunity (EEO) to all applicants. It is also the best way to get the most out of each and every interview and build a diverse workforce.
Copyright © 2017 Lila Kelly Associates, LLC. Human resources and diversity consulting. Integrating Diversity into Recruiting, Interviewing, Hiring and Retention – Since 1992. Not to be reprinted without written permission from Lila Kelly. This article includes excerpts from Lila Kelly's online training courses and books at diversityintegration.com. To stay up to date on all the latest from Lila Kelly Associates, subscribe to our newsletter.